Appointment bookings (กรุณา คลิกที่นี่ สำหรับภาษาไทย)

The Australian Embassy continues to welcome notarial, passports and consular clients as we closely monitor the Coronavirus (COVID-19). We ask those who have recently returned from overseas, or who are feeling unwell, wait for the 14 day recommended quarantine period to pass before making an appointment. Clients displaying symptoms of being unwell may be refused entry and requested to return in 14 days.

Passport and Notarial Services by appointment ONLY, Monday to Friday between 8:30am and 12:30pm (subject to appointment availability and excluding Embassy public holidays).
To book appointment with Phuket Consulate-General please click here
If you would like to lodge your passport application in Chiang Mai, please contact the Australian Consulate Chiang Mai (Monday to Thursday 9 am to 12 noon) on 091 857 6996 or by email – [email protected] - to book an appointment.

Applying for a passport in Phuket ? - Australian passport applications can be lodged at the Australian Consulate-General in Phuket by appointment, between 9.00am and 2.00pm Monday to Friday. Appointments can be booked here (https://acgphuket.setmore.com).
Booking policy
Clients should arrive 10 minutes prior to appointments for security screening. If you arrive late for your appointment you will need to reschedule to when an officer is available.
Bookings can be made 2 months in advance. Refer to your notification email if you need to amend or cancel your appointment (see example below).
Please ensure you select the correct type of service when you make the appointment. If you select the wrong service, we may not be able to help at your appointment time.

How to book your appointment
To book appointments please visit here
Select your desired service.
You may select a date and time and up to 2 months in advance. First select the date on the calendar then choose the time.
Enter your information. We ask you to list an email address and a phone number so that you can receive appointment reminders and this also allows you to cancel or reschedule your appointment.
Agree to our cancellation policy. If you need to cancel or reschedule your appointment, please refer to instructions below.
Attend the Embassy 10 minutes before your designated appointment time.
Cancelling or rescheduling an appointment
If you entered an email address you will receive an appointment cancellation/modification link each time you book an appointment at the Embassy. The Embassy sends email notifications when an appointment is booked. It will appear as per below: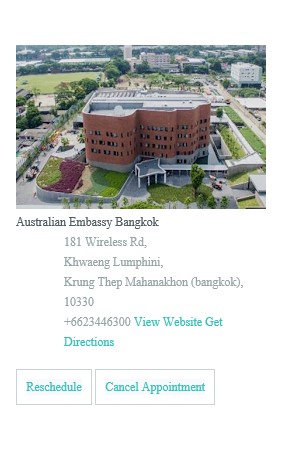 If you want to cancel an appointment, please click the "Cancel Appointment" link and you will receive a message on a new tab asking you to confirm cancellation.
If you want to modify an appointment, please click the "Reschedule" link. You will receive a message on a new tab allowing you to reschedule your appointment.
If you have any enquiries, please email us at [email protected]
Privacy Policy
The Department of Foreign Affairs and Trade (DFAT) uses third-party software (Setmore) to manage the Embassy's appointments. Your personal information (including your name and contact details) will be collected by DFAT via Setmore to book your appointment and for related purposes. By proceeding with this booking, you are consenting to the collection of this information by Setmore on DFAT's behalf for these purposes. If this information is not collected, DFAT's ability to arrange your appointment will be limited. Your personal information will be handled by Setmore in accordance with Setmore's Privacy Policy, and by DFAT in accordance with DFAT's Privacy Policy.