Australian media students enjoy an internship in Thailand
By Gemma Khaicy and Anthea Burton
In late January 2012, the Australia-Thailand Institute (ATI) funded two Australian media students to undertake a five week special internship program in Bangkok at the Australian Embassy's Public Diplomacy Unit and a major Thai newspaper. The media internship contributes to the ATI's aims of promoting institutional and people-to-people ties between Australia and Thailand.
The Australian Ambassador to Thailand, James Wise, strongly believes in developing closer relationships between students from both countries.
"The program is a really timely and important initiative that reflects our positive relationship with Thailand, especially in this year of 60th anniversary of bilateral relations between our two countries," said Ambassador James Wise.
Anthea Burton and Gemma Khaicy from The University of Sydney are enjoying new experiences in Thailand. They recently attended a communications seminar on current social issues in the Thai media at the Faculty of Communication Arts, Chulalongkorn University, as part of their internship program to explore media and communication study in Thailand.
"It was an eye-opening class as the students shared their knowledge with us. Anthea and I felt welcome in the class and also by staff at the university," said Gemma.
"It was a great opportunity to interact with Thai students and learn more about their culture. I think it is really important for younger Australians to gain a better understanding of a country we have such geographical, political and economic ties with," said Anthea.
Anthea and Gemma have completed their one week internship at the Australian Embassy and have freshly started their one month placement at the Bangkok Post newspaper in Bangkok.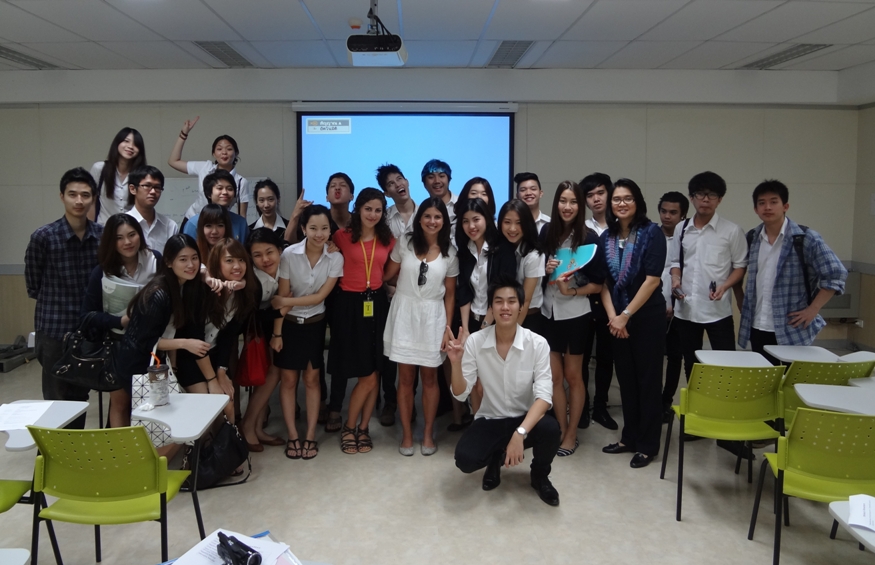 Exchanging views and friendship: Gemma Khaicy and Anthea Burton, Australian media students from the University of Sydney, attended a communication class at Chulalongkorn University.

Click here for Thai version