Three Thai scholars receive Endeavour Fellowships
to study in Australia
6 March 2017
Three outstanding Thai scholars have been awarded the merit-based Endeavour Fellowship to undertake research study and professional development in Australia in 2017. The three awardees are
Assistant Professor Prapasiri Pongprayoon from Kasetsart University's Faculty of Science , who will conduct research on Computational Biology at the Australian National University;
Associate Professor Siwaporn Meejoo Smith from Mahidol University's Faculty of Science, who will complete a professional development program in Industry Doctorate Program and Postgraduate training at the University of Technology Sydney; and
Ms Nitina Yeesibsean M.D. from King Chulalongkorn Memorial Hospital who will undertake a professional development program in Dermatology at the Skin and Cancer Foundation and St Vincent's Hospital in Melbourne.
Since 2007, the Endeavour program, the Australian Government's competitive, merit-based scholarships and fellowships, has supported 177 Thais scholars and academics to study, undertake research or professional development in Australia. The program aims to develop ongoing educational, research and professional links between individuals, organisations and countries as well as to increase the skills and global awareness of high achieving individuals from Australia and overseas.
The Australian Ambassador to Thailand, HE Mr Paul Robilliard, recently hosted a reception to congratulate the winners and their families.
"The Endeavour Scholarships and Fellowship recipients in 2017 are of a very high-calibre. I hope that they will return to Thailand, not only with new skills, but also with a greater understanding of Australian culture and life that will help strengthen the ongoing ties between our two countries," Ambassador Robilliard said.
There are four categories of Endeavour Scholarships and Fellowships: Postgraduate and Postdoctoral Scholarships, Research Fellowships, Vocational Education and Training Scholarships and Executive Fellowships. Applications can be submitted from April to June each year.
For further information, visit https://internationaleducation.gov.au/endeavour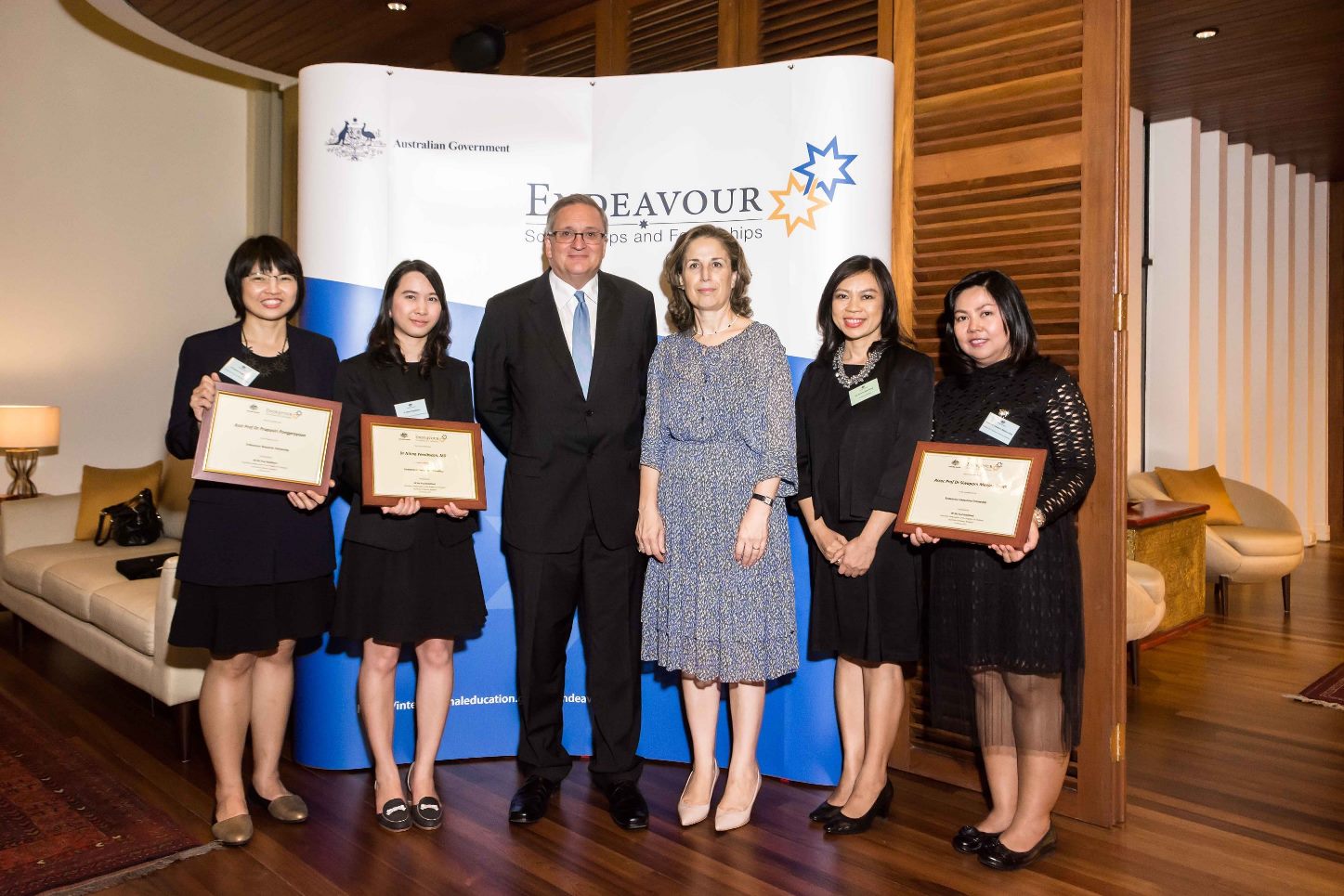 2017 Endeavour Fellowships recipients (From left to right): Assistant Professor Prapasiri Pongprayoon; Ms Nitina Yeesibsean M.D.; HE Mr Paul Robilliard, Australian Ambassador to Thailand, and his wife Mrs Hanan Robilliard; Ms Watinee Kharnwong, Director of Education section at the Australian Embassy; Associate Professor Siwaporn Meejoo Smith