160 Australian students to study in Thailand under the
New Colombo Plan in 2015

12 December 2014
Around 160 Australian undergraduate students will be supported to study and undertake work placements in Thailand in 2015 under the Australian Government's New Colombo Plan.

The students will come from ten universities across six Australian states and territories and will be undertaking study, study programs and work placements in institutions and organisations across Thailand. They are among more than 3,000 students who will live, study and work in the Indo Pacific region under the New Colombo Plan in 2015.
The New Colombo Plan aims to lift knowledge of the region in Australia and support Australia's ongoing regional engagement over the long term.
Australian student David Coleman has received a prestigious New Colombo Plan scholarship to study agricultural science at Mahidol University. Mr Coleman is currently studying an undergraduate degree in Environmental Systems at the University of Sydney.
Australian Ambassador to Thailand Paul Robilliard said, "I'm very pleased that so many Australian students will have the opportunity to study in Thailand in 2015 under the New Colombo Plan. Their placements will help them develop an understanding of the country and reinforce links between Australian and Thai people."
The Australian Government has committed AUD 100 million in new funding over five years to implement the New Colombo Plan.
For more information on the NCP visit www.dfat.gov.au/new-colombo-plan. (Click Here for Thai Version)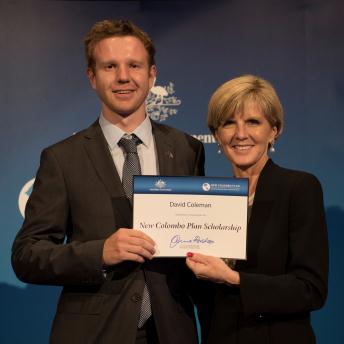 Australia's Minister for Foreign Affairs the Hon Julie Bishop MP with David Coleman from the University of Sydney, the New Colombo Plan scholarship recipient who will study at Mahidol University, Thailand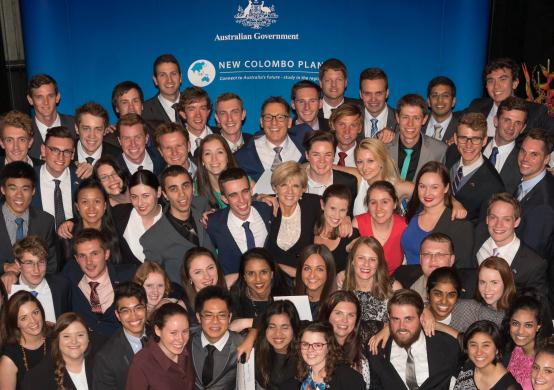 Ms Bishop with 2015 New Colombo Plan scholarship participants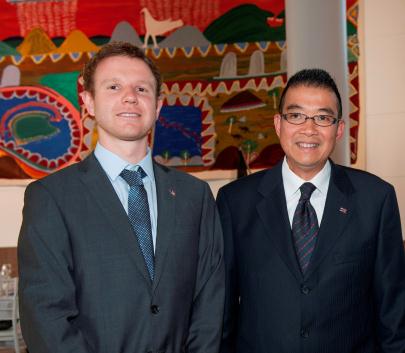 David Coleman and H.E. Maris Sangiampongsa, Thai Ambassador to Australia