Australia showcases cultural sensations for Thais to enjoy this November
29 October 2013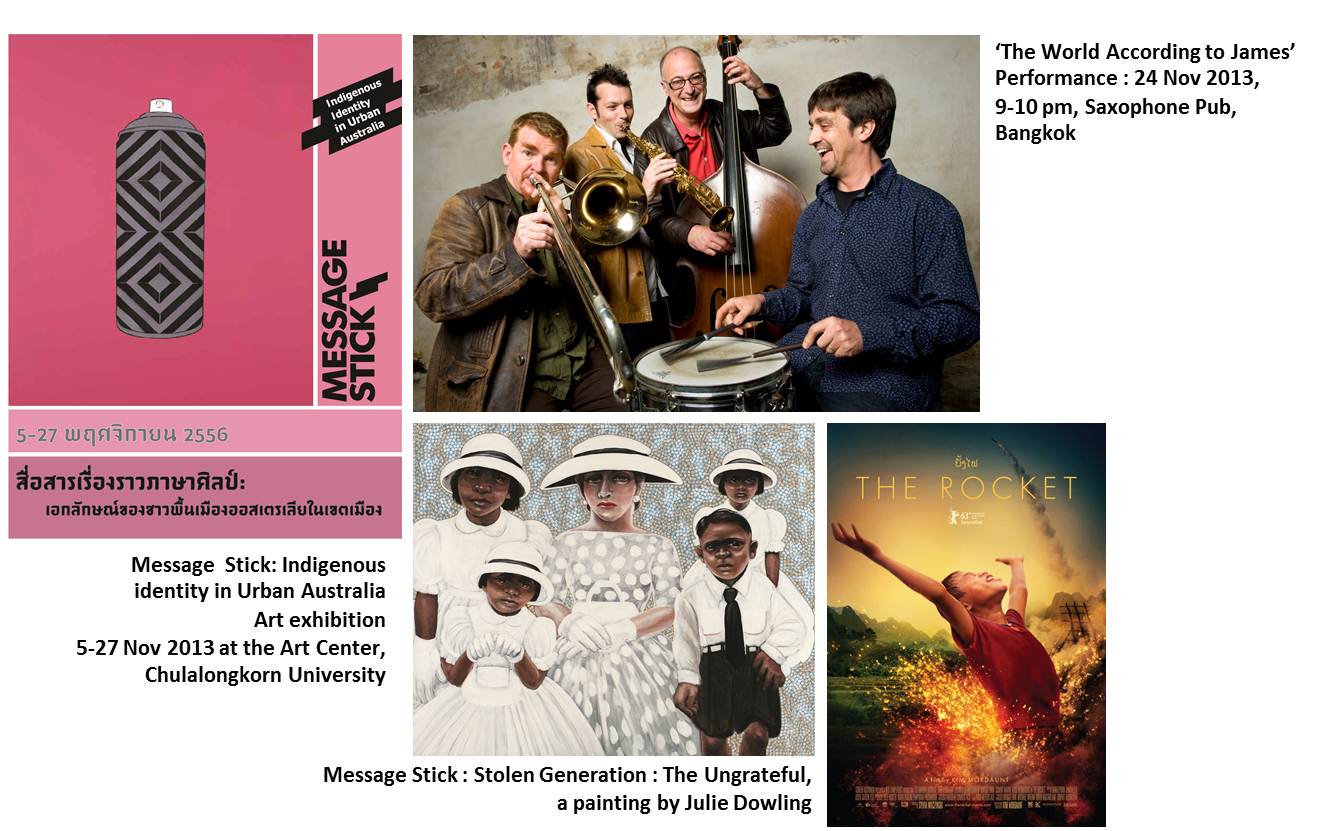 This November, the best of Australian culture comes to Thailand. The Australian Embassy will present to Bangkok audiences remarkable visual and musical experiences, showcasing renowned and talented artists from Australia through an art exhibition – Message Stick: Indigenous Identity in Urban Australia; a musical performance by one of Australia's most respected jazz ensembles – The World According to James; and an acclaimed film collaboration with Thai performers, 'The Rocket'.
Organised by the Australian Embassy, Bangkok, in collaboration with the Art Center at Chulalongkorn University, Message Stick: Indigenous Identity in Urban Australia is an Australian Department of Foreign and Trade's touring art exhibition. The exhibition features art works created by 11 acclaimed Australian Indigenous artists and presents a vital and energetic view of contemporary indigenous identity in urbanised Australia today. The Australian Ambassador to Thailand Mr James Wise will preside over the opening ceremony of the exhibition on 5 November, 6.30 pm at the Art Center, 7th Floor, Office of Academic Resources, Chulalongkorn University.
Scheduled to visit Thailand in late November is 'The World According to James', an innovative and experimental Australian jazz band that has performed to enthusiastic audiences internationally, including at the Berlin Jazz Festival, and throughout Australia. They will be playing at the Saxophone Pub, Bangkok, on 24 November. The band will also deliver workshops for students at the College of Music, Mahidol University and the Conservatory of Music, Rangsit University during their visit.
November is also special for film: the Australian film 'The Rocket' will screen at the 11th World Film Festival of Bangkok. Written and directed by Australian director Kim Mordaunt, The Rocket features an extraordinary leading performance from a former street kid Sitthiphon Disamoe, and famous Thai comedian Thep Phongam. 'The Rocket' is a deeply personal story about the determination of a boy who has the odds stacked against him. The film has been critically acclaimed: it won three awards at the prestigious Berlin International Film Festival 2013 and the Audience Award for Best Feature at Sydney Film Festival and many more. 'The Rocket' is another amazing example of a successful artistic collaboration between Australians, Thais and Laotians.
With these key Australian cultural events scheduled in November, the Australian Embassy will provide Thai audiences an exciting and inspiring insight into Australian cultural life.
'Message Stick: Indigenous Identity in Urban Australia' art exhibition
Date : 5-27 November 2013 (Free entry)
Venue : The Art Center, 7th floor, Office of Academic Resources, Chulalongkorn University
Open Monday to Friday, 9 am – 7 pm, Saturday from 9 am – 4 pm.
Closed on Sundays and public holidays. Tel: 02-218 2965
'The World According to James' Performance
Date : 24 November 2013
Time : 9-10 pm
Venue : Saxophone Pub, 3/8 Phayathai Road, Victory Monument, Bangkok
Tel: 02 246 5472