Australian Embassy congratulates recipients of 2014 Australian Government's Endeavour Scholarships and Fellowships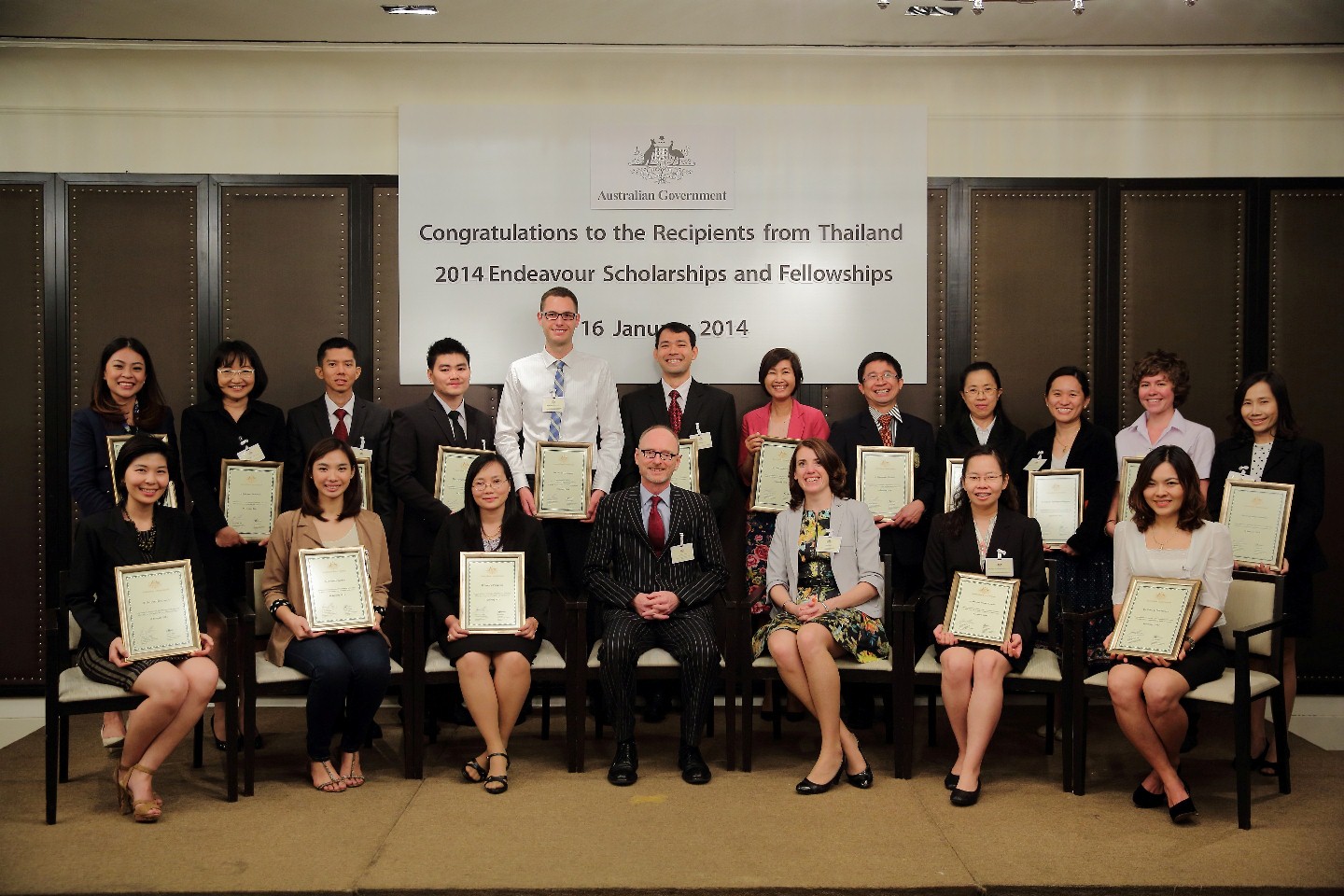 28 January 2014
The Australian Embassy's Deputy Head of Mission, Mr Jonathan Kenna, recently hosted a reception at the Grand Hyatt Erawan Hotel to congratulate 17 Thai recipients of the prestigious 2014 Endeavour scholarships and fellowships who will travel to study in Australia this year, as well as four Australians who received Endeavour scholarships to study at Thai universities.
"To the Thai awardees, I trust that you will take full advantage of Australia's high quality education system and strengthen the personal and professional linkages between Thailand and Australia. I hope that you will return to Thailand not only with new skills and education qualifications, but also with a greater understanding of Australian culture and that the experience helps strengthen ties between our two countries and supports Thailand's important role as a leader in South East Asia", Mr Kenna said.

Ms Paradee Treerat, a violin instructor at Bangkok Symphony Music School, is a recipient of the Endeavour Postgraduate Scholarship. She will be studying a Master of Music (Performance Teaching) at the University of Melbourne. Despite an unsuccessful application last year, Ms Treerat was determined to try again. "I spent a whole year obtaining more work experience and was successful with the application this time. My goal in coming back is to improve music teaching in Thailand", she said.

Dr Jedsada Manyam is a researcher from Thailand's National Nanotechnology Center and recipient of the Endeavour Research Fellowship. He will spend 6 months undertaking research in physics at the University of Technology Sydney. "I hope to strengthen Australian-Thai collaboration in science and establish unprecedented collaboration in the field of material analysis techniques", he said.
Ms Lakhana Dockiao, an educator at the Bureau of International Cooperation Strategy, Office of the Higher Education Commission, Thailand, is a recipient of Endeavour Executive Fellowship. Ms Dockiao explained that a pivotal part of her plan was to study issues relating to student mobility, which would benefit Thai education in the upcoming ASEAN integration.

Since its inception in 2007, around 130 Thai scholars have been granted Endeavour Scholarships and Fellowships, and over 20 Australians have been given the opportunity to undertake further study in Thailand.

Applications for the 2015 round of Endeavour Scholarships and Fellowships will open in early April 2014 and close on 30 June 2014. For more information on scholarship details and how to apply, visit www.education.gov.au/scholarships-fellowships-and-grants