Artist Talk and glass jewelry demonstration featuring the practice of Jess Dare
29 July 2014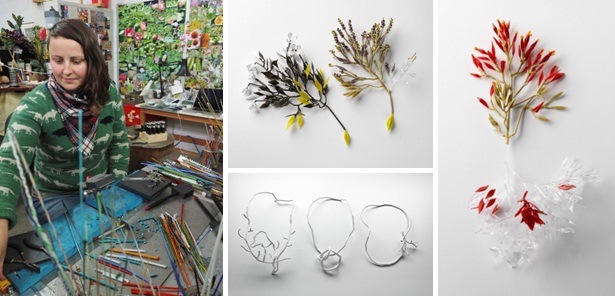 Jess Dare, contemporary jeweller and glass artist from Australia, will speak at Atelier Rudee International Academy of Contemporary Jewellery on Sunday August 3rd from 1 to 4 pm. She will talk about her background, practice, inspiration and techniques. Following her talk there will be a demonstration on how she creates her beautiful work in glass. The talk will be conducted in English and admission is free.
Jess Dare is a partner of one of the longest running and renowned jewellery workshops in Australia, Gray Street Workshop. Since 2005 she has privately studied lampworking with national and international glass artists. The unique combination of glass and metal-smithing skills sets her work apart from her peers.
Her current work draws parallels between the different ways throughout history people have attempted to preserve flowers by means of illustration, photography, flower pressing, specimen collection and botanical models. Another powerful influence has been the extraordinary works of Leopold and Rudolf Blaschka- particularly the highly realistic collection of glass plant models created by for Harvard University between 1887 to 1936.
Jess Dare is currently conducting her residency at Atelier Rudee as part of an Asialink's Arts Residency Program supported by The Australia Council for the Arts and Arts SA. While in Thailand, she will research local flower markets and the use of flower garlands to inspire new work.
More information about Jess Dare:
www.jessdare.com
www.graystreetworkshop.com.au
Atelier Rudee International Academy of Contemporary Jewellery
Address: 20 Napalai 6 Sukhumvit 70/3, Bangkok
Mobile 082 326 1309 or 02-7455527 (Fax)
http://www.atelierrudee.com