Australian creative visionary to speak in Bangkok
as part of Charoenkrung revitalisation
5 May 2016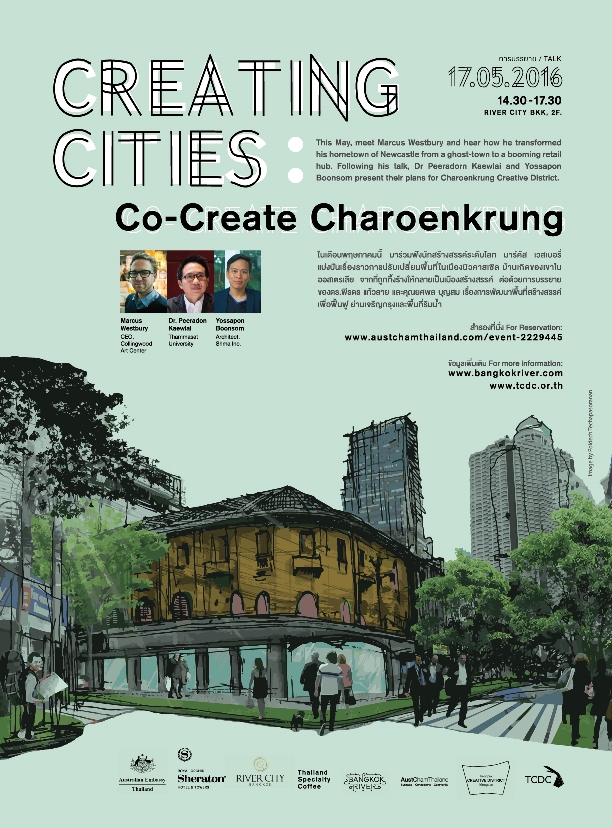 Marcus Westbury, Australian founder of multi-award winning creative revitalisation projects "Renew Newcastle" and "Renew Australia", and author of "Creating Cities", is coming to Bangkok to share his innovative, unconventional and successful experience leading urban development schemes at the "CREATING CITIES: Co-Create Charoenkrung" - a public talk on Tuesday 17 May 2016, 14.30-17.30 hrs at the River City Shopping Complex, Bangkok. The event is organised by the Australian Embassy, in partnership with Bangkok River Partners, the Australian - Thai Chamber of Commerce, Creative District Foundation, River City Bangkok, Royal Orchid Sheraton, Thailand Creative & Design Center (TCDC) and Thailand Specialty Coffee.
Westbury will share his story of resuscitating the downtown shopping precinct of his hometown of Newcastle - an Australian city in New South Wales. Westbury's Renew Newcastle action filled 150 empty shops with local artisans and cafes, designers and craftsman, art galleries and boutiques. The project has been the inspiration for empty space revitalisation schemes across the country. He is currently an inaugural CEO of the social enterprise Contemporary Arts Precincts Ltd that is leading the development of the Collingwood Arts Precinct in Melbourne. Marcus advises government and businesses and speaks and writes extensively, nationally and internationally, about creativity, culture and place.
Joining the talk on the 17th are two Thai speakers and local heroes, Associate Professor Peeradorn Kaewlai from the Faculty of Architecture and Planning, Thammasat University, whose research has been on developing creative cities, and Mr. Yossapon Boonsom, a landscape architect and Director of Shma Design - a Thai landscape architectural firm working on the Re-Create Bangrak project. Both will provide insight as to how Bangrak and the Klongsan area are being turned into Bangkok's Creative District.
Not dissimilar to Newcastle, studies by Thammasat University show that 23 per cent of Bangrak properties are sitting vacant. The Creative District Foundation is working to change that by bringing together local communities, designers, government bodies, local business and entrepreneurs to provide Bangkokians and tourists the hottest new destination in town - through its urban community development "Re-create Bangrak" project.
Creating Cities, Co-Create Charoenkrung" is part of the Bangkok River Exchange series which bring international visionaries who have had remarkable success in their fields to share their stories with local government and business leaders, teachers, and students, and the general public.
CREATING CITIES: Co-Create Charoenkrung
Date : Tuesday 17 May 2016
Time : 14.30-17.30 hrs
Venue : River City Shopping Complex, Bangkok.
The event is open to public free of charge. For reservation, please visit www.austchamthailand.com/event-2229445.
Marcus Westbury's Bio
A broadcaster, writer, media maker and festival director, Westbury has been responsible for some of Australia's more innovative, unconventional and successful cultural projects and events. He has expertise through Renew Newcastle and Renew Australia that have helped launch more than two hundred creative and community projects in Newcastle and reopened more than a hundred of vacant properties across Australia. Renew Newcastle is a DIY urban renewal scheme that has brokered access to more than 30 empty buildings for creative enterprises, artists and cultural projects in Newcastle, NSW. The project has been the inspiration for empty space revitalisation schemes across Australia, like Renew Adelaide, Renew Townsville, Made in Geelong and Pop-up Parramatta.