HMAS Darwin makes a goodwill visit to Thailand
28 January 2016
HMAS Darwin, a 4000 ton frigate, and its 230 person crew visited Sattahip, Thailand on 15 - 19 January 2016. HMAS Darwin is en route to the Indian Ocean for a six month patrol as part of the Australian Government's contribution to the international effort to promote maritime security, stability and prosperity in the Middle East region.
Commanded by Commander Phillip Henry, HMAS Darwin sailed from Sydney, Australia on 30 December 2015. As part of her six month deployment, the frigate will visit a number of ports beginning with Sattahip. During this goodwill visit to Thailand, HMAS Darwin participated in a joint exercise with the Royal Thai Navy, in the Gulf of Thailand.
HMAS Darwin is a long-range escort frigate that undertakes roles including area air defence, anti-submarine warfare, surveillance, reconnaissance and interdiction. The ship is capable of countering simultaneous threats from the air, surface and sub-surface.
HMAS Darwin has been deployed to the Persian Gulf a record five times in 1990, 1991, 1992, 2002 and 2004. Darwin was deployed to East Timor (Timor-Leste) in 1999 and was also involved in operations in the Solomon Islands in 2001.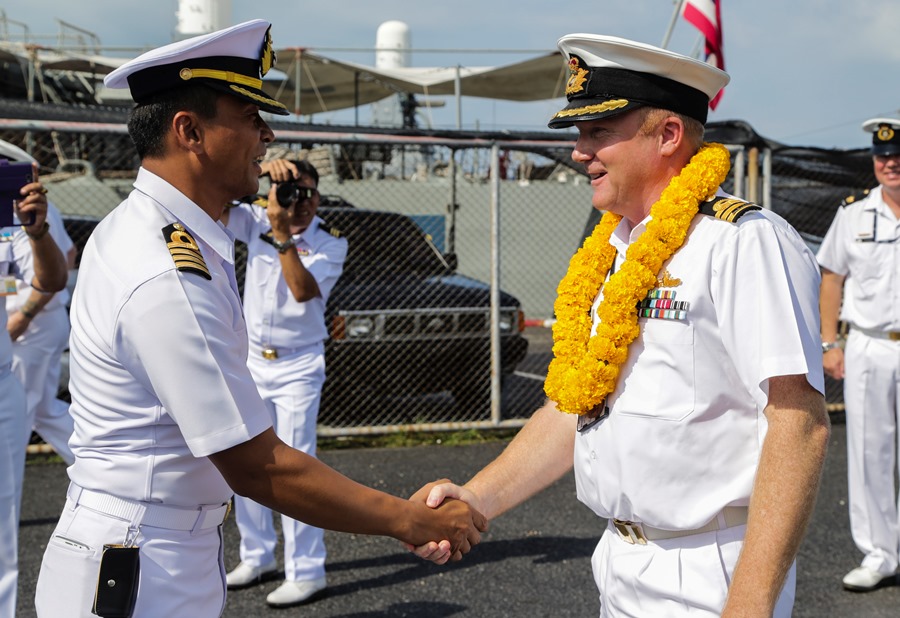 HMAS Darwin Commander Phillip Henry is welcomed by Captain Chaloemporn Klaithong Deputy Director, Chuksamet Port, Sattahip Naval Base


A welcome by Indigenous Australians on-board HMAS DARWIN

HMAS Darwin arrives at Sattahip, Thailand for a 5-day goodwill visit