Para Table Tennis players share their skills with Ambassador
10 October 2016
Australian Ambassador to Thailand, Paul Robilliard, hosted a reception at his residence to welcome members of the Australian Para Table Tennis team to Thailand, who are in town to compete alongside players from Thailand and other nationalities in the 2016 Thailand Para Open Championships from 8 – 13 October 2016 in Pattaya.
Ambassador Robilliard took the opportunity to learn some tips from the Thai and Australia Para Table Tennis teams. He passed on his best wishes for success to all the players for the 2016 Thailand Para Open.
In addition to participating in the competition in Pattaya, the Australian Team is meeting with disability organisations in Thailand, as part of a program funded through the Australian Government's Asian Sports Partnerships, called Smash Down Barriers.
"The partnership between our two countries through Table Tennis is an exciting one. Thailand is a formidable table tennis nation and brings a wealth of experience in coaching and sport development. Australia brings proven expertise in managing disability-inclusive sport and providing opportunities for people of all abilities to participate and reach their fullest potential" said Ambassador Robilliard.
"Sport has the unique power to transcend social, cultural, religious and language barriers and bridge differences and to improve individual lives and transform communities", he added.
Distinguished guests included Thai Paralympic Games wheelchair table tennis Bronze medalists, Mr Yuttajak Glinbanchuen and Mr Anurak Laowong; Mr Sakul Ariyachotima, Deputy Secretary General at Table Tennis Association of Thailand; and Dr Attarit Srinkapaibulaya, Chairman of the Thai Para Table Tennis Society.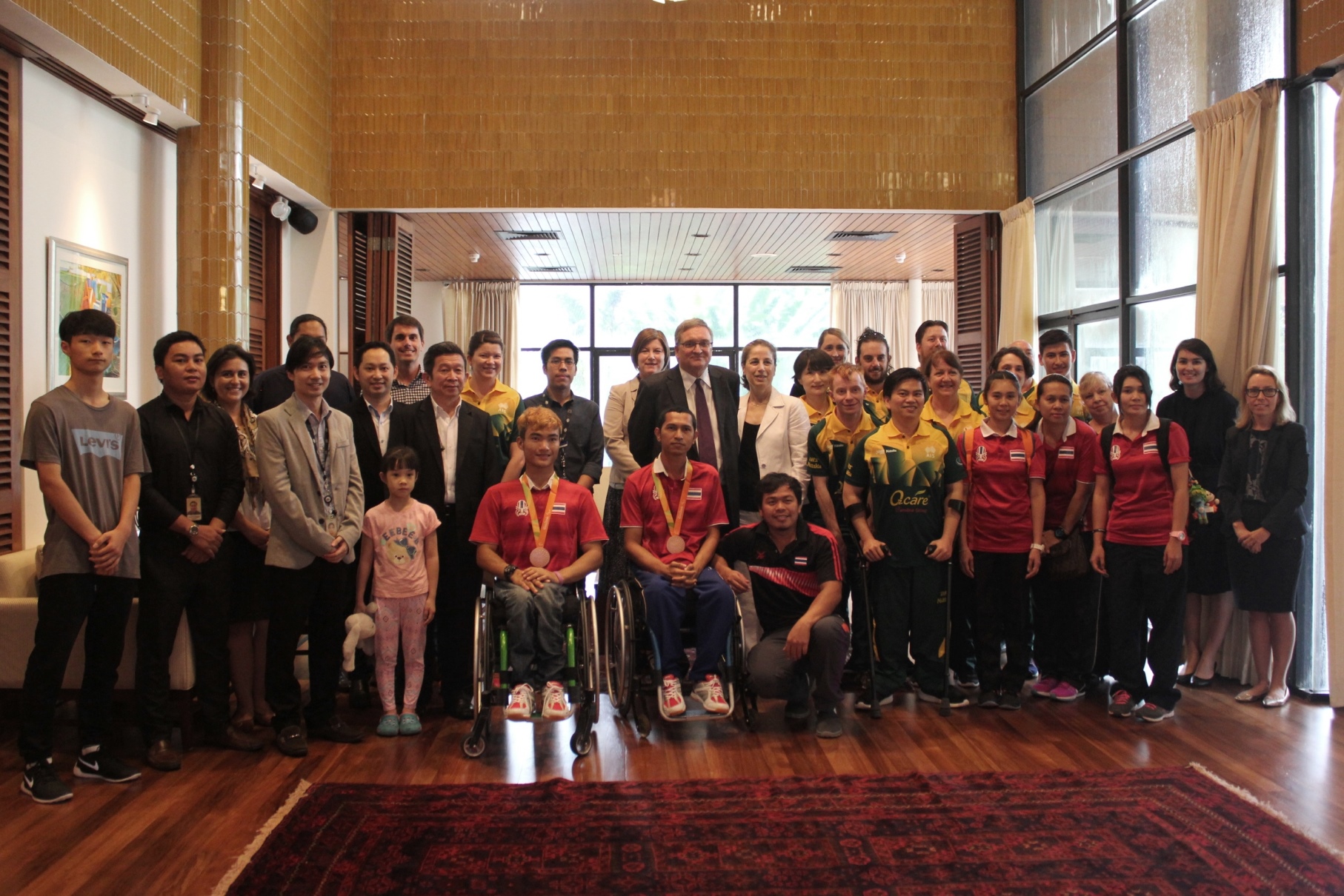 Australian Ambassador to Thailand Mr Paul Robilliard and Hanan Robilliard hosted a reception at their residence with Australian and Thai Para table tennis teams to wish them success in the 2016 Thailand Para Open Championships in Pattaya.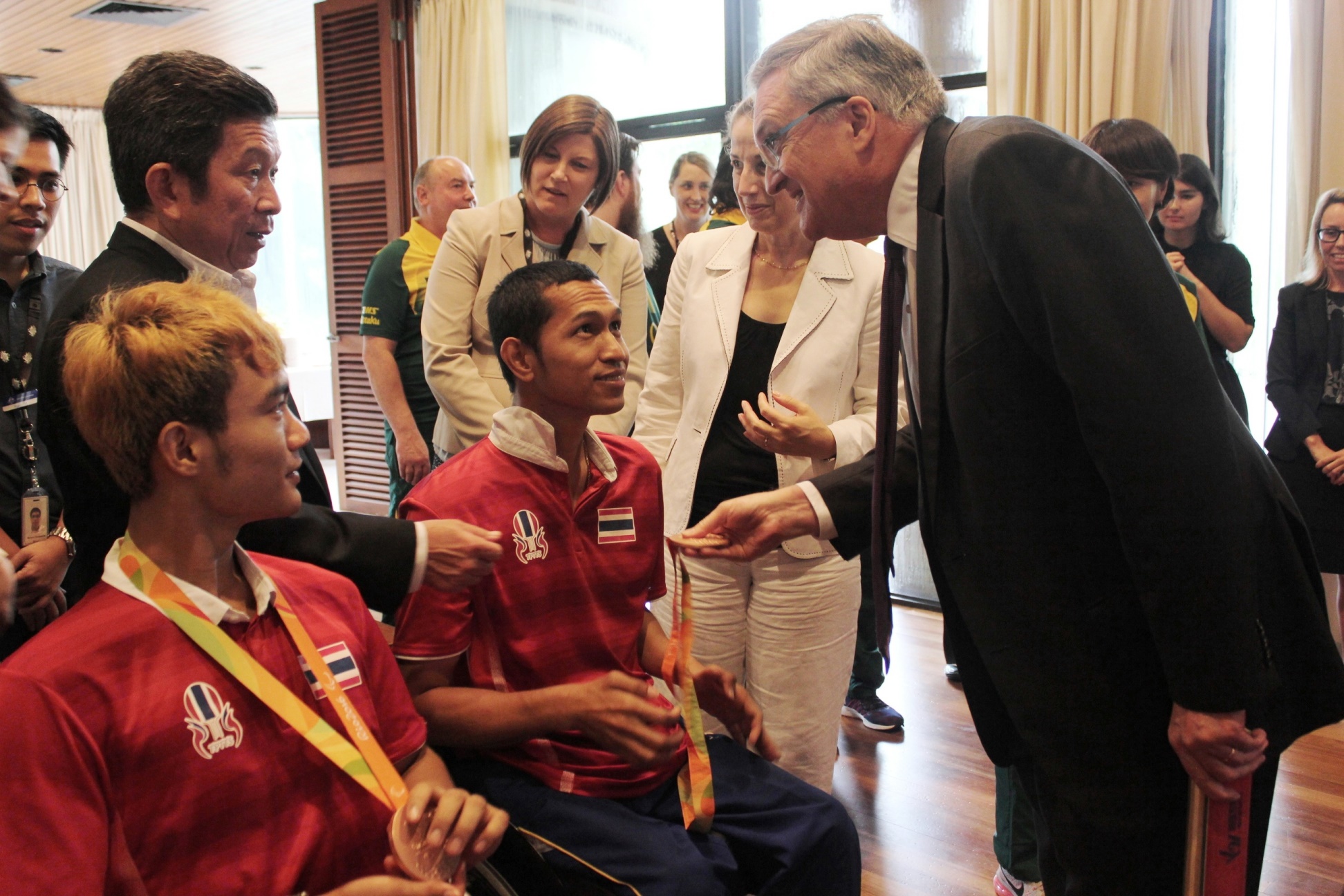 Australian Ambassador to Thailand Paul Robilliard congratulated Yuttajak Glinbanchuen and Anurak Laowong on their success winning Bronze medal in wheelchair table tennis at the Paralympic Games.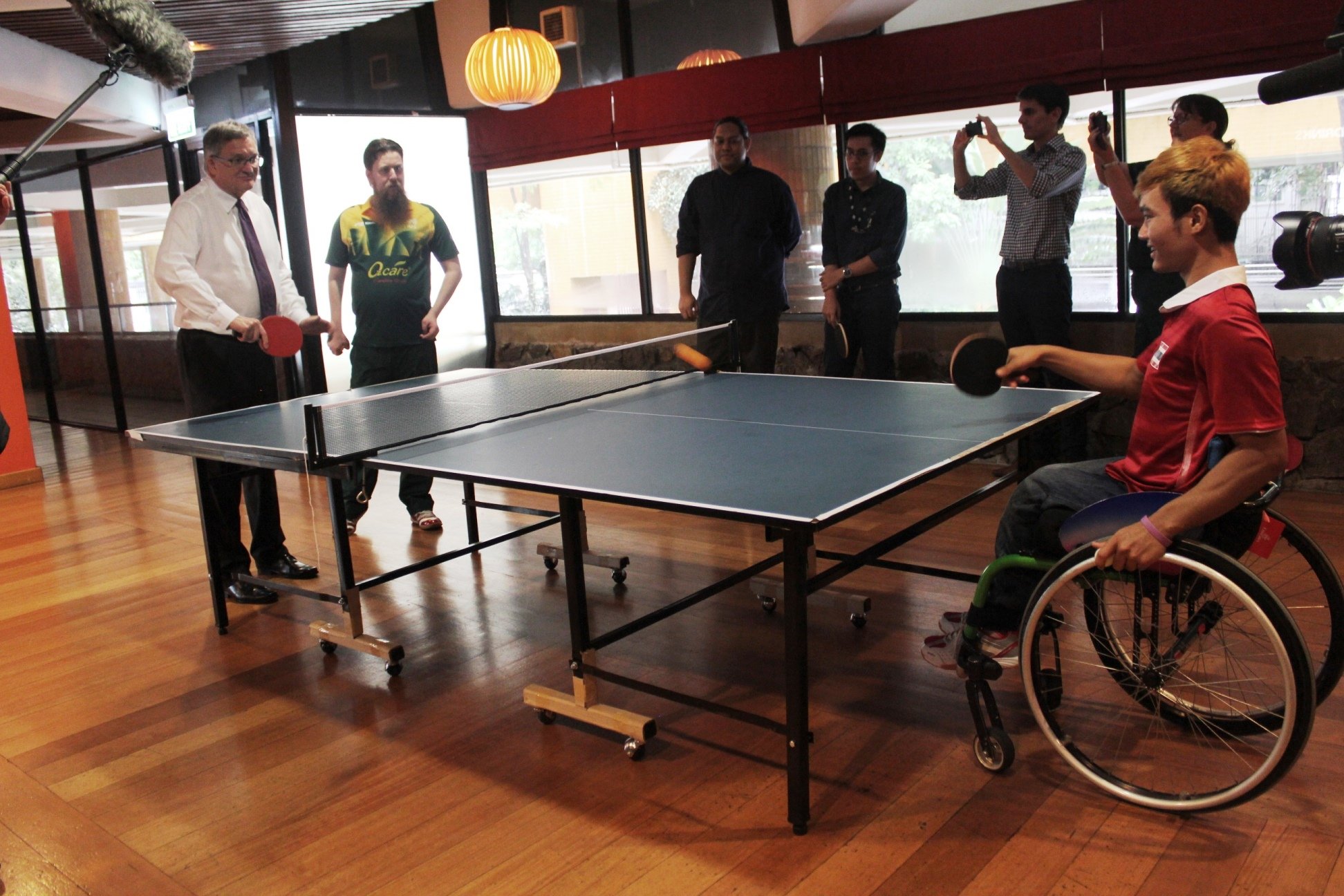 Australian Ambassador to Thailand Paul Robilliard played table tennis with Thai para table tennis player Yuttajak Glinbanchuen at the Australian Embassy, Thailand.
Click Here for Thai Version