Australian Foreign Minister opens new Bangkok Embassy
3 August 2017
Australian Foreign Minister Julie Bishop has formally opened the new Australian Embassy building in Bangkok in a ceremony attended by Thai Foreign Minister Don Pramudwinai.
In a symbolic gesture of continuity, and respect for Thai culture, Ms Bishop released a turtle from a pool at the former embassy into a pool at the new one, after a ceremony involving Indigenous Australian and Thai performances.
Australian architect James Grose from the firm BVN won the competition to design the new complex. It has a curved organic form, inspired by the Australian landscape. The five storey Chancery is a terracotta-coloured brick, the colour of the deserts of Central Australia, and similar to traditional Thai brickwork 'it mon dang'. Pools ripple through the centre of the building, and surround the outside, typical in Thai architecture.
Materials include 450,000 bricks, native Australian timber blackbutt and marble from the Pilbara region of Western Australia, and north Queensland. A large banyan tree is planted near the entrance to the Chancery. A frangipani has been moved from the old embassy site.
During the construction, there were up to a thousand Thai workers on site, 40 percent of them women. Women did most of the bricklaying, painting, plastering and detailing. Construction was overseen by an Australian and French joint venture.
The new embassy is at 181 Wireless Road, not far from Lumphini Park in central Bangkok. It is a symbol of the strength and importance of the relationship between Australia and Thailand.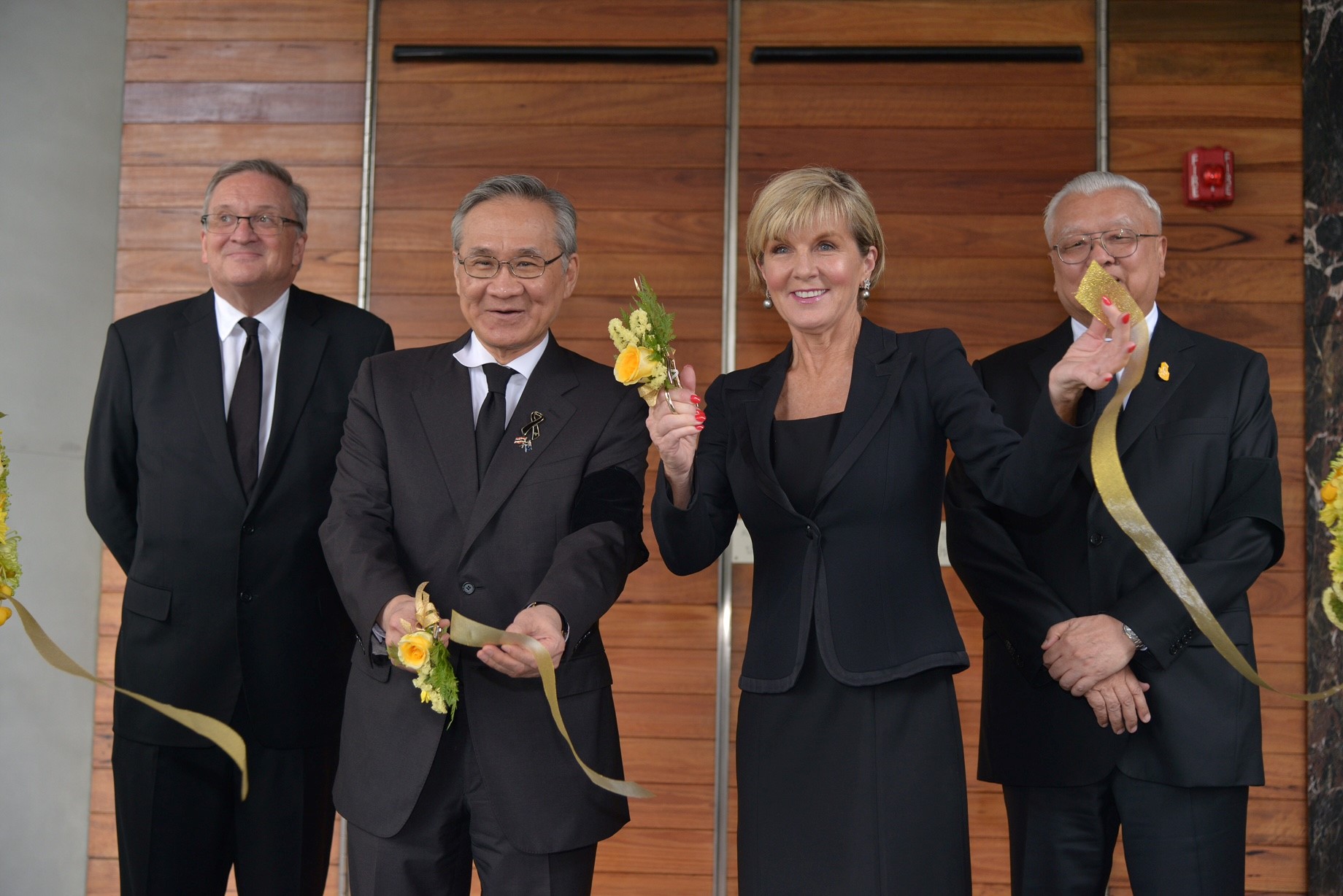 Ambassador Paul Robilliard, Thai Foreign Minister Don Pramudwinai, Foreign Minister Julie Bishop,
Director-General Crown Property Bureau Chirayu Isarangkun Na Ayuthaya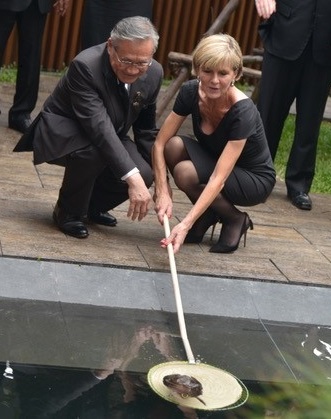 A longtime resident of the turtle pond at the former embassy released at his new home
by Australian Foreign Minister Julie Bishop and Thai counterpart Don Pramudwinai