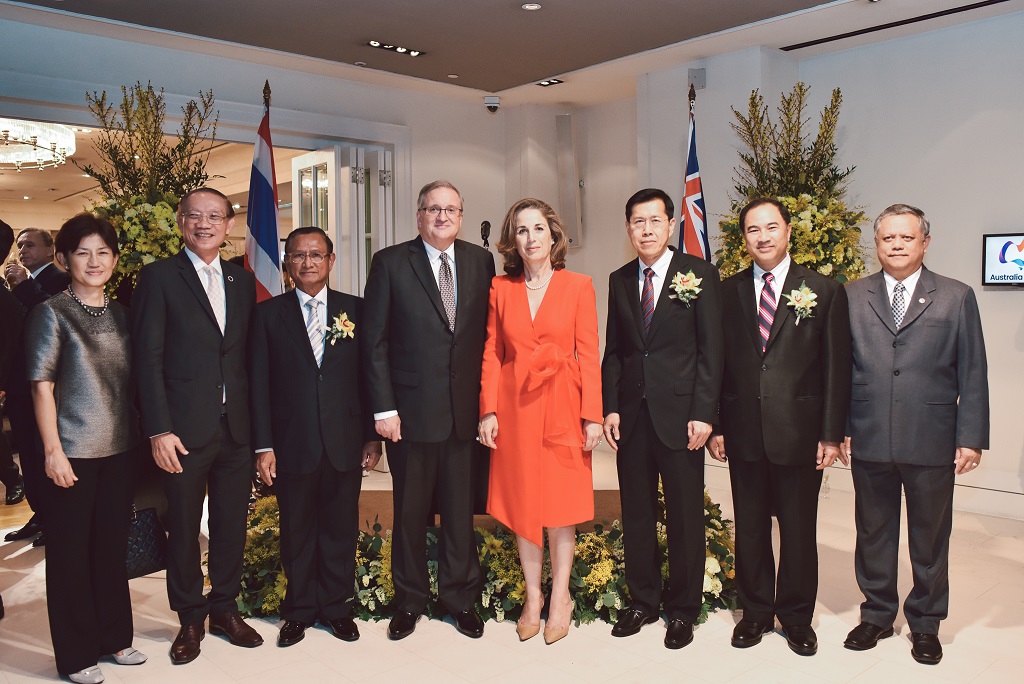 Australia's National Day Celebrated in Thailand
H.E. Mr. Paul Robilliard (fourth from left) and his wife Mrs Hanan Robilliard (fourth from right) hosted a reception to celebrate Australia Day at the Grand Hyatt Erawan Hotel, Bangkok on 26 January 2018.
Among distinguished guests were (from left to right) CEO (Philippines and Thailand) of ANZ Bank, Ms Panadda Manoleehakul; Chairman and CEO of Supalai PCL, Dr Prateep Tangmatitham; Chairman of the Election Commission, Mr Supachai Somcharoen; Former Deputy Minister and Former Minister of Education, Mr Phongthep Thepkanjana; Chairman of Board of Trade of Thailand, Mr Kalin Sarasin; and Secretary-General of Narcotics Control Board, Mr Sirinya Sitdhichai.
ฉลองวันชาติออสเตรเลีย
เมื่อวันที่ 26 มกราคม 2561 ฯพณฯ พอล โรบิลลิอาร์ด เอกอัครราชทูตออสเตรเลียประจำประเทศไทย (ที่ 4 จากซ้าย) และนางฮานาน โรบิลลิอาร์ด ภริยา (ที่ 4 จากขวา) จัดงานเลี้ยงฉลองวันชาติออสเตรเลีย ที่โรงแรมแกรนด์ ไฮแอท เอราวัณ กรุงเทพฯ
โดยมีแขกผู้มีเกียรติร่วมแสดงความยินดี อาทิ (จากซ้ายไปขวา) นางสาวปนัดดา มโนลีหกุล ประธานเจ้าหน้าที่ธนาคารเอเอ็นแซด (ไทย) จำกัดมหาชน, ดร. ประทีป ตั้งมติธรรม ประธานกรรมการบริหาร บริษัทศุภาลัย จำกัด (มหาชน), นายศุภชัย สมเจริญ ประธานกรรมการเลือกตั้ง, นายพงศ์เทพ เทพกาญจนา อดีตรองนายกรัฐมนตรีและอดีตรัฐมนตรีว่าการกระทรวงศึกษาธิการ, นายกลินท์ สารสิน ประธานสภาหอการค้าแห่งประเทศไทย, และ นายศิรินทร์ยา สิทธิชัย เลขาธิการ ป.ป.ส.