Award-Winning Australian Author, Poet and Rapper Comes to Bangkok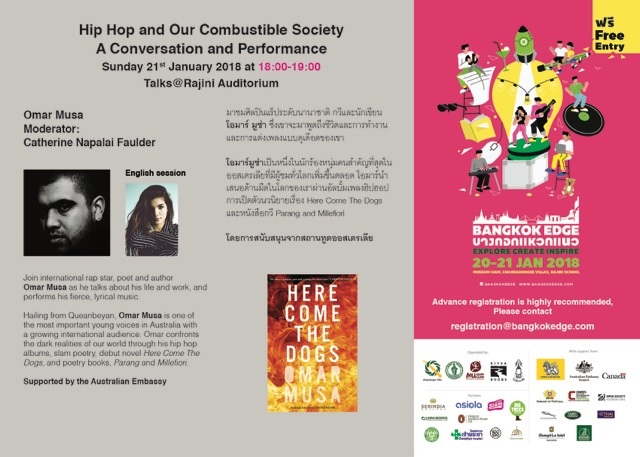 15 January 2018
Authors, poets and fans of rap music: get your groove on!
Omar Musa, highly acclaimed Australian author, poet and rapper is coming to Bangkok this week to offer a rare, eye-opening poetry performances that showcase Australian unique art and street poetry.
The Australian Embassy Bangkok is delighted to support Omar's performance and talk at the 2018 Bangkok Edge Festival that runs from 20 to 21 January 2018. The festival brings together poets, writers and audiences from around the world to offer thought-provoking discussions, stimulating entertainment and lively workshops for people of all ages. This year's event will provide a weekend of literature, film, photography, music, dances, talks, workshops and performances offering audiences thought-provoking entertainment, not be found elsewhere.
Omar Musa is an award-winning Australian-Malaysian author, poet and rapper and considered one of Australia's most important young voices. He is best known for his political hip-hop lyrics and poetry. He won the Australian Poetry slam in 2008 and the Indian Ocean Poetry Slam in 2009. He has released five hip-hop records: The Massive EP, World Goes to Pieces, MoneyKat, Dead Centre and Since Ali Died; three poetry books: The Clocks, Parang and Millefiori. His debut novel Here Comes the Dogs was published by Penguin Australia in 2014 and was long-listed for the International Dublin Literary Award and Miles Franklin Award. In 2015, Omar was named one of the Sydney Morning Herald's Young Australian Novelist of the Year.
In addition to participating in Bangkok Edge Festival, Omar will give a performance at Cho Why on 19 January.
Don't miss out on Omar Musa's performances. Admission is free.
Friday, 19 January 20.30 – 21.00: Omar Musa Spoken Word Poetry – Performance – Cho Why (Soi Nana 17, Pom Prap Sattru Phai, China Town, Bangkok)
Saturday, 20 January 17:30 - 18:30: Workshop - The Power of Poetry - Museum Siam, Library
Sunday, 21 January 18:00 - 19:00: Hip Hop and Our Combustible Society: A Conversation and Performance - Rajini Auditorium
For more information about the Bangkok Edge event, please visit www.bangkokedge.com.
Click here for Thai version