Australia – Thailand Young University Researchers' Exchange Program set to commence
10 September 2014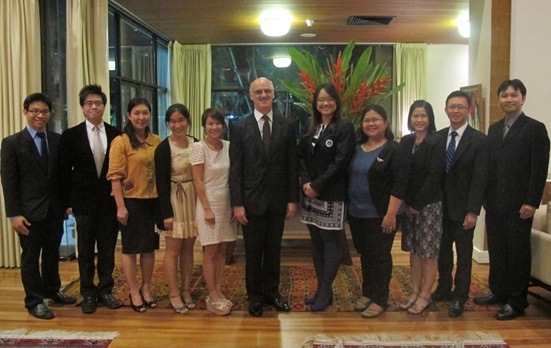 Australian Ambassador to Thailand, Mr James Wise, recently hosted a reception to congratulate Thai researchers participating in the inaugural Australia - Thailand Young University Researchers' Exchange Program - a new initiative from the Department of Education at the Australian Embassy, Bangkok.
The Department of Education and the Australian Innovative Research University Group, in consultation with Thailand's Office of the Higher Education Commission developed the program, which will fund an exchange program for ten participants each from Thailand and Australia.
Participants will gain insight into research practices in each other's countries in several areas including nanotechnology, agricultural biotechnology, clean technology and modern languages. Acquiring cultural understanding is also one of the program's objectives as well as developing networks to form long-term research and university partnerships.
Participating Thai institutions include Chulalongkorn University, Thammasat University, Mahidol University, Kasetsart University, Prince of Songkla University, King Mongkut's University of Technology - North Bangkok, Chiang Mai University, Burapha University and the National Nanotechnology Center (NANOTEC). Participating Australian institutions include Charles Darwin University, Flinders University, Griffith University, James Cook University, Latrobe University, Murdoch University and University of Newcastle.