Australia's Indigenous performers join Thai hip hop dancers
and Deep South street artists to 'Move For Reconciliation'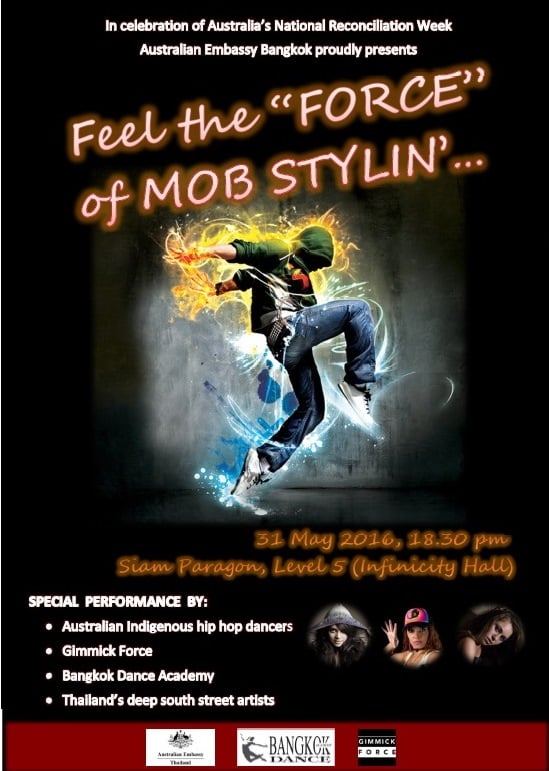 24 May 2016
Indigenous stars featured on Australia's famous hip hop dance television series Move it Mob Style will showcase their culture through hip hop dance and song in a one-of-a-kind public performance "Feel the Force of Mob Stylin". The performance will be on 31 May 2016, 6.30 pm at Infinicity Hall, Siam Paragon, Bangkok. Organised by the Australian Embassy in partnership with Bangkok Dance Academy, the event is held to mark Australia's National Reconciliation Week (27 May – 3 June 2016).
Australian Indigenous hip hop performers Naomi Wenitong, Juanita Duncan and Dizzy Doolan will join their like-minded Thais from Bangkok Dance Academy, Thailand's hip hop champions Gimmick Force and street artists from Thailand's Deep South to exchange skills, culture, history, and deliver a performance on 31 May.
Australia's National Reconciliation Week (NRW) is an annual celebration of Australian Indigenous culture and Indigenous people's contribution to Australian society. This year's theme is 'Our History, Our Story, Our Future'. It emphasises that recognition of historical injustices and the stories of Australia's Indigenous people are a key part of Australia's story as a nation and form part of our journey to reconciliation. Through reconciliation we can strengthen our nation to be a unified, equal country that respects and values diversity. (www.reconciliation.org.au/nrw/).
Gimmick Force is a group of talented Thai street dancers ranked 1st at Thailand's Hip Hop Dance Championships 2015 and 15th at the World Hip Hop Dance Championship 2015. The group is now preparing World Hip Hop Dance Championship 2016 in Las Vegas in August.
Street artists from Thailand's Deep South will display their artistic work alongside the performances. The Embassy's Direct Aid Program sponsored Saiburi Street Xhibit, a skateboarding and graffiti event in the south aimed at bringing together youth of all cultures and religions. Artists that were involved in Saiburi Street Xhibit will come to share their art and culture.
"Feel the Force of Mob Stylin" public performance
Date : Tuesday 31 May 2016
Time : 6.30 pm
Venue : Infinicity Hall, level 5, Siam Paragon
Free entry. Register your attendance at pdubangkok@gmail.com
FROM AUSTRALIA :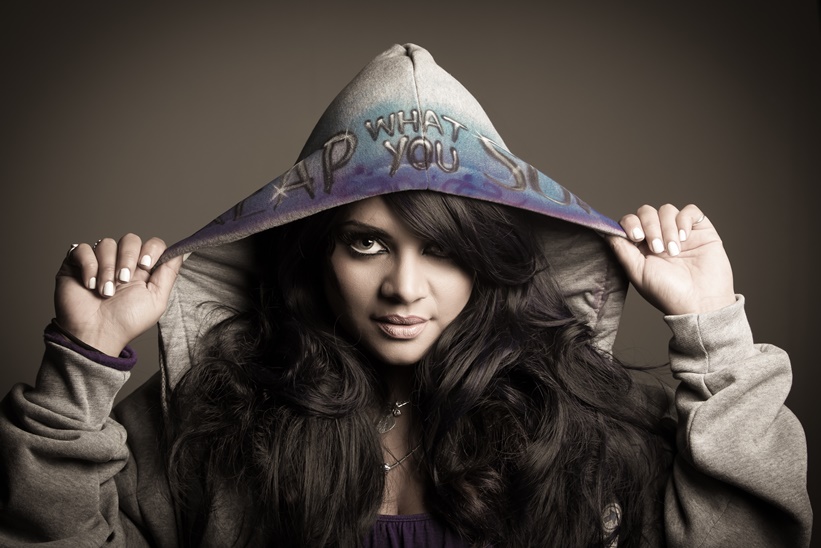 Naomi Wenitong is an Indigenous singer-song writer in Australia. She shot to stardom along with Simone Stacey in 2001. In that year they were signed to Sony Music and in 2002 they released their debut single Stop Calling Me, which peaked at number five on the ARIA charts. Other hit singles followed, including Sublime and Cinderella.
In 2006, Naomi joined Hip Hop band The Last Kinection (TLK) with her brother Joel and Jacob Turier (DJ Jaytee). The Last Kinection's debut album, Nutches, was featured on triple j and community radio across Australia. They followed this with The Next Of Kin in 2011. They have played at major festivals throughout Australia. The Next of Kin was released in 2011 and contains that year's Deadly Award winning Single of the Year – Happy People. TLK also won Most Outstanding Achievement in Hip Hop and R&B at the Deadly Awards in 2009 and 2010. Naomi Wenitong won Best Female Artist at the 2010 Deadly Awards and in 2012 TLK won the Deadly Award for Band of the Year. Naomi has also been nominated by Oz Hip Hop.com for Australia's best female MC in 2013.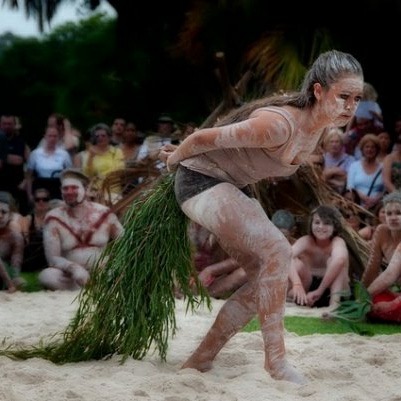 Juanita Duncan graduated from NAISDA (National Aboriginal Islander Skill Development Association) Dance College in 2009 with a Diploma – Careers in Dance. Since then she has been working with, and performing for many organisations. She has also had the opportunity to travel to many Aboriginal communities around Australia. She has appeared at major festivals such as Dreaming, Woodford, and the Victoria Art Festival. Juanita works as a freelance dancer and has performed for, and worked on, various projects such as the Deadly Awards, the Wayne Quilliam Lowanna Series of photographs and Indigenous Hip Hop Projects.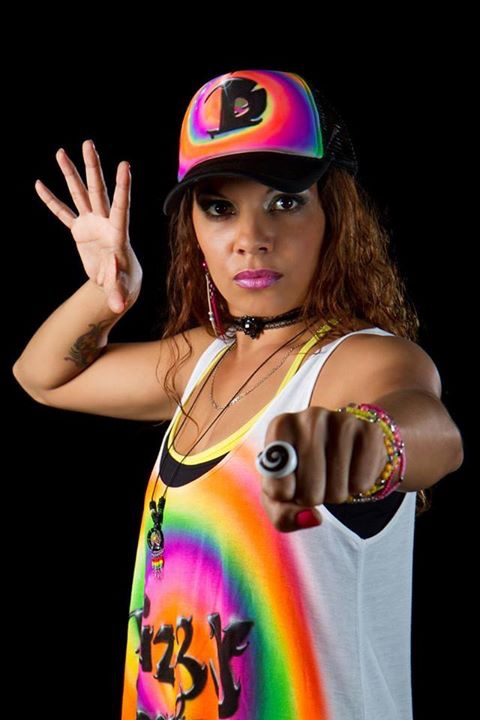 Dizzy Doolan is an Indigenous Hip Hop artist tearing it up with her unique style of music. She is multi-talented with her music, dancing and acting skills. Dizzy has hit the main stream music industry, currently signed with record label TOTW Paper Chase.
FROM THAILAND :
BANGKOK DANCE ACADEMY
Bangkok Dance Academy is Thailand's dance school with the most certified dance curriculums including certifications from the Ministry of Education, the Royal Academy of Dance (RAD)and the Commonwealth Society of Teachers and Dancing (C.S.T.D) Australia.
GIMMICK FORCE
Jutharat Kuldilok
Arnan Hiranlai
Sarocha Pahupamong
Pattharamon Promma
Apisthada Urakane
STREET ARTISTS
Mr Siddik Basolo
Mr Muslim Saleah
Mr Muhammadsuriyee Masu